Thinking Big at Bently Ranch
The Furrow, photos & story by Laura Read
CARSON VALLEY, NEV. IS NAMED for Kit Carson, the 19th century trapper and scout who guided John C. Freemont on his 1840s explorations of the American West. The valley spans 14 miles between the granitic bulk of the Sierra Nevada and the high desert curves of the Pine Nut Range. At its heart is the Carson River, which originates on the slopes of California's Sonora Peak and – flowing improbably away from the Pacific Ocean – ends in the Nevada desert, where it sinks into the earth.
Today, a new kind of advance guard is at the helm of one of the valley's largest ranches. Christopher Bently, 48, took over running Bently Ranch in 2012 after his father, the inventor and electrical engineer Donald E. Bently, who was running it as a beef cattle ranch, passed away. The ranch now includes about 65,000 acres located in four western regions: in Carson Valley, near Lovelock, Nev. and near the towns of Bridgeport and Red Bluff, Calif. While Carson Valley has felt the nip of new housing at its edges, much of its center has remained open – quite a bit of it devoted to cattle ranching and wetlands preservation. The younger Bently wants to continue the ranch's heritage, but he also wants to grow it in a new direction: Next year he'll open Bently Heritage Estate Distillery inside of restored 1906 mill and creamery buildings in the town of Minden, population 3,000. The distillery will produce gins, vodkas, whiskeys, and other specialty spirits. Most of the ingredients will be grown right on the ranch.
"This has been a hard-working ranch for a lot of years," Christopher Bently says. "It is my goal to protect as much open space and as many beautiful historic properties as possible so that we may retain our environment and culture for future generations."
Heritage: Bently's plan is rooted in the legacy of his father. In 1960, Don Bently, then a 36-year-old electrical engineer from San Francisco, bought some acreage in one of the valley's oldest ranches. Established by the German immigrant H.F. Dangberg in 1857, the Dangberg Ranch filled a portion of the northern end of the scenic valley corridor along U.S. Route 395 south of Reno and Carson City. Comfortable thinking outside of the box (one of his alma maters, the University of Iowa, called him a pioneer and a visionary), Don Bently saw in the section that he bought, a way to combine the two driving forces of his life: his ground-breaking engineering work, and his respect for agricultural landscapes.
In the beginning, he built a laboratory and headquarters for the research, development, and production of his inventions. Eventually the Bently Nevada Corporation became a $200-million-per-year manufacturer of his ground-breaking electronic systems used to monitor the mechanical conditions of machinery.
It wasn't until 30 years later that Don Bently turned more attention to agriculture. In 1997, after slowly acquiring a total 35,000 acres of the Dangberg Ranch, he established Bently Ranch to raise beef cattle and alfalfa. As he reduced his ranch's energy footprint and restored its natural wetland systems, the ranch was lauded by many observers as an example of sustainability.
Fermentation: When Don Bently died, Christopher was head of the San Francisco-based Bently Enterprises, known for its LEED-certified (Leadership in Energy and Environmental Design) renovations of significant structures like San Francisco's old Federal Reserve Building. The younger Bently had grown up in San Francisco with his mother after his parents divorced. He loved the tradition and purpose of the ranch, and he loved Carson Valley.
Having as a kid prowled the old empty ranch buildings on his family's property, Bently is fond of their contributions to the area's historic character. In the town center, during the first years of the 20th century, the Dangbergs had developed the Minden Flour Milling Company and the neighboring Minden Creamery; both are now listed on the National Register of Historic Places. Bently had a strong desire to build a distillery, and saw opportunity in a boom of independent distilleries taking off across the world.
He and his team proposed restoring the old brick flour mill and creamery, installing state-of-the-art equipment, and opening Bently Heritage Estate Distillery.
Changes started in the ground. General Manager Matt McKinney replaced some alfalfa fields with four kinds of barley and seven types of grain, including rye, corn, triticale, hulless oats, and spelt. He set about identifying heritage grains good for alcoholic brews and spirits.
Because breweries were multiplying in regions nearby, ranch managers began looking at growing hops. (There are 623 small breweries in California and 37 in Nevada, according to the Brewers Association — at least 25 of the Nevada facilities sit between the cities of Reno/Sparks and Carson Valley.) A total 1,500 hops of different varieties were planted — including chinook, centennial, and cascade. "They take 30 percent less water than legumes and alfalfa," says Woody Worthington, ranch operations manager. This year, the ranch finished building a 20,000-square-foot malting and grain processing facility that includes 200-, 400- and 2,500-ton silos.
The additions fit Christopher Bently's commitment to sensitive animal husbandry practices. "It is imperative that we conserve natural resources," he says, "and that we have complete control over how the animals are raised and brought to the consumer, while ensuring that our cattle don't have a negative impact on the surrounding countryside."
Herds are moved to fresh pastures as needed in order to maintain grass health, and cattle are allowed to grow at a natural rate rather than being fed to speed weight gain, Bently says. The ranch uses solar energy when possible, and recycles organic materials into compost, according to Worthington.
Field to Flask: As for the mill and creamery compound, which occupies a couple of Minden blocks, renovations have been dramatic. In 2014, with the help of the Nevada State Historic Preservation office and an industrial archeologist, about two dozen pieces of machinery were cataloged and photographed. Floor plans were made showing the locations of the old machinery inside the building, according to Bently. Some of the stored machinery will be on display once the finished building is open to the public next year.
The mill renovation included installing floors and catwalks inside the three-story grain silos for access to a new mash tun (which converts starches in crushed grains into sugars for fermentation), as well as fermentation tanks and handmade stills from Scotland. These will produce a Bently Heritage single malt whiskey. The creamery building will hold German-made stills to produce Bently Heritage vodkas and gins. All ingredients will be ranch grown, Worthington says.
Thinking forward: What people in the tasting room may not realize is that, even as Bently is making his ideas a reality, he's inspiring the next generation of entrepreneurs. As the estate distillery readies to open, research and development percolates inside of a smaller "incubator" facility nearby where food chemists, distillers, and other creative problem solvers are concocting new alcoholic spirits formulas. They often collect flavor ingredients by prowling the high desert, plucking shrubs, flowers, and grasses they hope will ultimate taste divine.
"I'm a big believer of letting people do their jobs," Bently says. "We have an incredibly talented pool of people who are all part of this. It's fun to see people excel. They have great ideas."
Ranching a Volcano, Part 1, Kaupo Ranch, Maui — The Furrow Magazine
The Furrow Magazine, July 8, 2016
One April morning on the Hawaiian island of Maui, the manager of Haleakala Ranch, Greg Friel, and his son and grandson saddle up to herd cattle from one lush pasture to another. Eight thousand feet above them looms the mountain's crater, invisible among frothing clouds; two thousand feet below, the Pacific Ocean sparkles under sunny skies to the horizon.
Meanwhile, 16 miles away, the manager of Ulupalakua Ranch, Jimmy Gomes, is driving southward on the mid-mountain Pi'ilani Highway. He emerges from a bucolic forest onto terrain that looks like rural southern Italy, then enters territory that's drier still — a bed of hard basalt lava that spilled thousands of years ago from cracks in the earth. Gomes follows the road through more greenery where it dips to the ocean's edge. He parks at Kaupo Ranch, where manager Bobby Ferreira has gathered some prized Angus derivative bulls to sell. The two make a deal.
Around the bend northward from Kaupo lies one more of Maui's largest ranches, this one in radically different terrain, where waterfalls and foliage flourish in deep gorges under constant rains. Hana Ranch manager Josh Daniels is pioneering a business model he hopes will sustain both the ranch and the local families who depend on it.
Friel, Gomes, Ferreira, and Daniels work within a few miles of each other, yet their operations differ so much they might as well be a few states apart. The reason: the giant dormant volcano that makes up 75 percent of the island. In this three-part series, The Furrow looks at how ranches located on different aspects of the "House of the Sun" survive.
Kaupo Ranch — Maui's wild west
Few people realize that Hawaii — as famous for its sugar and pineapple as for its luscious beaches — is also cattle country. It has been ever since 1793 when the British explorer George Vancouver shipped a small herd — seven cows and two seasick bulls, according to a history from the Hawaii Department of Agriculture — from Alta, California as a gift for the king. Today, about 760,000 acres of the state's 4.2 million acres are in pastureland — comprising 83 percent of all productive agricultural land in the state, according to a University of Hawaii study published in 2015.
Maui's ranches are cow-calf operations, with permanent herds producing calves for sale to be raised, finished, and slaughtered for beef. Maui once had its own finishing feedlots and slaughterhouses, but the lots closed in the early 1990s when the costs of imported feed soared. Ranchers adapted by working with cargo shippers to send calves to the U.S. mainland for finishing and slaughter. Some 60 to 70 percent of calves annually are weaned at 6 to 10 months of age and transported to the mainland, where some are sold to be feedlot grain-finished, and a smaller percentage are finished by grass or grain on farmland owned by the Hawaii-based rancher.
While many island ranches have sold off portions or subdivided, a few properties haven't changed much. Kaupo Ranch is famously one of the least altered.
Far Out: The property is part of a larger area that gets its name from Kaupo Gap, a rift in the mountainside that opened during a landslide more than 100,000 years ago. The slide shoved massive amounts of earth and soil onto an area where the ranch now operates, according to Ferreira. The rugged land feels remote and wild, a world away from the tableaus of resorts and sugar cane fields that travelers see on the rest of Maui.
Early Polynesians divided the land economically into wedge shapes known as ahupua'a that extended between valley ridges from the crater through to the ocean. The divisions gave early family groups access to various resources at different elevations, including sea life, timber stands, fresh water, and arable land. Kaupo Ranch still holds most of its original shape, according to Ferreira.
"It's a tough place," he says. "The number one reason it has remained intact is its location, and number two is the difficulty with the type of terrain. It's very humid, and it's all mountains. You can compare Kaupo Ranch to Haleakala Ranch — Haleakala is steep, and it is on lava; but it is close to town. When equipment breaks down, all they need to do is run downtown and come back. At Kaupo, we have 1.5 hour's drive each way."
Ferreira is known widely for his work pioneering an Angus Plus derivative species well adapted to mountain tropics. (Angus Plus are Bos Indicus/Angus derivatives, combining a minimum of 50 percent Angus with a floating percentage of Brahman, Ferreira says.) He also won recognition recently for transitioning the pastures of a previous ranch from fallow sugarcane fields to legume-grass mixes that support productive forage finishing. At Kaupo, he oversees 1,300 head of cattle; because of recent drought conditions, that number has been temporarily reduced from the ranch's carrying capacity of 1,800 head, he says.
Wind and Rain: It's hard to imagine that a tropical place like Hawaii experiences droughts. The archipelago lies in the northern portion of the equatorial zone, where prevailing northeast trade winds deposit moisture in highly localized patterns. When the winds — after traveling many miles across the ocean — reach Haleakala, they split and stream around the mountain like currents of water.
According to University of Hawaii meteorologist Pau-Shin Chu, trade winds have been diminishing recently and shifting slightly from north to east. Between about 2007 and 2013 they delivered significantly less water to Maui and the other islands in the Hawaiian chain. That was followed by a year that delivered closer to normal rain, but then that was followed by the current El Nino cycle and less rainfall on the islands. It's been an alarming trend, Chu says. "We've seen this decreasing trend over the past 40 years, since the 1970s," he says.
Where and when the rain falls depends on the property's mountainside location and its exposure to the winds. On north- and east-facing slopes, trade winds deliver as much as 200 inches a year; on the southern or lee sides, the rain is blocked by Haleakala, and the ranches tend to receive much less, Chu says. Kaupo is on the lee side.
"Kaupo spans three miles," Ferreira says. "We're on the edge of the turn. I can have rainfall as high as 59 to 60 inches or as low as 17 inches. My records show that the lowest average is about 12 inches."
But Kaupo benefits from a second wind effect. While the trade winds dominate 70 to 80 percent of the year — most prevalent in summer — another wind pattern, the Kona, supplies light moisture from the opposite direction, south and southwest, during the fall.
Another factor affecting Kaupo and the other Haleakala ranches is elevation. Air temperatures change as the volcano's slopes rise. Grass is available year-round at one elevation or another, but different species are associated with different heights. Lower slopes grow tropical grasses and legumes, while higher sections grow a mix of tropical and temperate zone species.
Only a small number of tourists make the drive all the way around the volcano to Kaupo. When they reach the little community, they see scattered houses, a church and a single general store. The ranch and the store are Kaupo's primary employers, Ferreira says, providing jobs for fewer than a dozen people.
The ranch's owners include the daughter of the man who bought the ranch in 1929, William Dwight Baldwin, himself a descendent of missionaries who arrived on the island in the 1830s. The current consortium of owners is planning to continuing its traditions, Ferreira says.
"They want to preserve the lifestyle, the way it's been out here," he says. "The land is basically only good for this purpose. They want to know that their grandchildren are going to be left with something that they kept alive. That goes for all of us — not only Kaupo's owners, but all of the ranchers on Maui."
Ranching a Volcano, Part 2, Haleakala Ranch, Maui — The Furrow Magazine
The Furrow Magazine, July 15, 2016
One April morning on the Hawaiian island of Maui, the manager of Haleakala Ranch, Greg Friel, and his son and grandson saddle up to herd cattle from one lush pasture to another. Eight thousand feet above them looms the mountain's crater, invisible among frothing clouds; two thousand feet below, the Pacific Ocean sparkles under sunny skies to the horizon.
Meanwhile, 16 miles away, the manager of Ulupalakua Ranch, Jimmy Gomes, is driving southward on the mid-mountain Pi'ilani Highway. He emerges from a bucolic forest onto terrain that looks like rural southern Italy, then enters territory that's drier still — a bed of hard basalt lava that spilled thousands of years ago from cracks in the earth. Gomes follows the road through more greenery where it dips to the ocean's edge. He parks at Kaupo Ranch, where manager Bobby Ferreira has gathered some prized Angus derivative bulls to sell. The two make a deal.
Around the bend northward from Kaupo lies one more of Maui's largest ranches, this one in radically different terrain, where waterfalls and foliage flourish in deep gorges under constant rains. Hana Ranch manager Josh Daniels is pioneering a business model he hopes will sustain both the ranch and the local families who depend on it.
Friel, Gomes, Ferreira, and Daniels work within a few miles of each other, yet their operations differ so much they might as well be a few states apart. The reason: the giant dormant volcano that makes up 75 percent of the island. In this three-part series, The Furrow looks at how ranches located on different aspects of the "House of the Sun" survive.
It's a Thursday morning in April, and Haleakala Ranch Manager Greg Friel, his son Cody, and his grandson Eli are on horseback driving cattle to a new pasture near the town of Makawao, Maui in Hawaii. Above them, rich green fields and native forests rise almost 8,000 feet toward Haleakala Volcano's 10,000-foot-high crater. Below them, the volcano's lower slopes spread 2,000 feet down to the ocean. The location could be a Hollywood movie backdrop, but it's not; it's just a normal background at Maui's oldest family-owned cattle operation.
The 29,000-acre Haleakala Ranch has appeared often enough in print media and as backdrops in TV ads that its scenery may be familiar even to people who haven't visited Hawaii. Many Maui tourists visit ranch property as part of their stay: there are zipline rides, a lavender farm and a protea farm, run by lessees, as well as horseback rides. The ranch once included a place that most everyone on the island goes to at least once, the Haleakala National Park, which surrounds the volcano's crater. The land was swapped in 1927 with the Territory of Hawaii in exchange for agricultural lands elsewhere on the island.
Sensitive to its role in Maui's history, managers of the for-profit enterprise strike a fine balance between tradition and innovation.
Cattle for the King: Haleakala Ranch was incorporated 1888, but cattle had been present on the islands for 95 years by then. In 1793 six cows and a bull had arrived by ship as a gift from British Captain James Vancouver to King Kamehameha I. The animals were descendants of Andalusian cattle that had been imported to the New World from Spain 270 years earlier. During the next few decades the cattle multiplied and ran wild, destroying property and becoming a nuisance. In 1832, King Kamehameha III brought in Mexican vaqueros from California to show the locals how to herd the animals on horseback. The vaqueros referred to themselves as Espaniolo (meaning "Spanish"), and the Hawaiian cowboys eventually called themselves an iteration of that word, Paniolo. Adapting their methods to the tropical resources and terrain, they developed specific traditions that survive today.
Ranching on private property in Hawaii didn't come about until the mid-19th century. Before then, island resources were shared according to a communal land tenure program that divided land into pie shapes extending from crater to ocean. In 1848, that program was suspended in favor of a private property system that made agricultural land available for sale. Early owners of Haleakala Ranch were the grandsons of Christian missionaries who came to the island 18th century. Today the same family runs the ranch in the form of a family corporation of more than 110 members.
Ranchers bolstered the original Andalusian stock with imported Aberdeen Angus and Ayrshire breeds, and later Holsteins and Herefords, according to the writer John Harrison, who explored the ranch's history in his book "Haleakala Ranch," published for the ranch's 125th anniversary in 2013. "We've been breeding black and red angus, picking them by body type, looking at moderate framed animals which means they don't get very tall," Friel says. "We want them to be easy fleshing — not animals that take a lot of input to keep them in good condition."
Friel was hired by the Baldwins as ranch manager in 1994. He had previously managed another large ranch, Hana Ranch, on the other side of the island. Friel filled big shoes, not the least of which belonged to a legendary manager of nearly 80 years earlier, Louis von Tempsky. Harrison wrote about Tempsky: "Von worked tirelessly to improve the ranch's stock — cattle, horse, pigs, and sheep…. His meticulous records, still held by the ranch, bear witness to the thousands of trees he planted across the ranch lands to improve the watershed. He experimented with planting different types of wood for a variety of uses: fence post, firewood, railroad ties, building lumber, and so on. He introduced different grasses to improve the feed and cultivated a wide range of diversified agricultural crops in the hopes of developing businesses for the ranch other than cattle. Among these endeavors were plantings of corn, vegetables, castor oil beans, pigeon peas, sisal and various grass crops. Another crop grown on the ranch during Von's stewardship was pineapple— a business that was to benefit the economy of Maui and create thousands of jobs over subsequent decades."
A century later, some of Friel's concerns are similar, however ranching now is more costly and more complicated, even while new technology and information sharing make creative solutions more accessible than ever before.
Around the Slope: Like von Tempsky, Friel is an innovator. One of the challenges he faces — a surprise on a tropical island known for waterfalls and palm trees — is drought. The ranch properties wrap around different sides of the volcano, and slopes facing different directions get varying amounts of rain depending on their relationship to the northeast trade winds, which bring most of the island's moisture. So parts of the ranch are extremely wet, and parts are arid. "There's no average," Friel says. "It depends on elevation, exposure, and winds. In a good year we'll get 8 inches on the ranch above Kihei, while over in the forest we'll get 60 inches. It's very diverse within a span of ten miles."
There have always been drought cycles, but a recent 6-year drought, followed by a wet year and then another dry year, was tough. With meteorologists suggesting the drier weather patterns will continue, Friel is working on drought proofing the ranch. "My best guess is to plan for it to be drier," Friel says. "If it's not drier we're ahead of the game. If it is dryer, we're prepared."
Drought proofing includes adjusting the ongoing forage program. "We're trying to introduce some new forages to help get more diversity for the animals, and for the health of the pastures —a mix of grasses, legumes, and some flowering plants," Friel says. "The more variety you have, the more root system layers develop in the ground, making for a better balanced and healthier stand of forages. The dry weather makes it a little bit rough to get them established."
The drought forced herd reductions, but the ranch is now restoring numbers to the capacity of 1,600. "We're keeping the heifers back to build the numbers back up," Friel says. "We are just a shade under 1,000 now."
Diversifying product is also on the table. Haleakala has 1,800 goats, which are used for foliage management and as a meat source for some islanders. Sheep numbers are tied to what the island's sole slaughterhouse can handle. "If we get the stability in the slaughterhouse, then we might go to 1,000. Right now we have less than 350," Friel says. And there are chickens. The ranch has a new stock of layer hens, but it's important to find a local byproduct to feed them so the ranch doesn't have to pay costly prices for importing feed to the island. "In Hawaii we don't have a lot of ag byproducts, so we keep investigating," Friel says. "We would like to find something that would open us up to the production of meat birds instead of just layer hens."
The drought's impact on forage is magnifying another problem, the invasion of axis deer, which were brought to the island years ago for game hunting. Hunting has not kept the wandering ungulates in check, and now, like the cattle delivered by Captain Vancouver long ago, the deer are wreaking havoc, eating up the forage the ranch is managing so carefully for its own animals. "They're having an impact on our fences and our grazing management," Friel says. "When we rotate the cattle out of pastures, the cattle might not return to that area for 90 to 120 days, but we can't control the deer from going in." Ranchers are working with the State of Hawaii to find a solution, but so far there's been no easy fix.
Tradition Passed Down Is Friel's son Cody going to be a rancher like his dad? It's likely, since he's already in charge of one of the ranch's quadrants. Are the grandkids headed that way? That remains to be seen, says Friel.
It's highly likely that Paniolo traditions will continue. Although most of the Paniolo have traded cowboy hats for ball caps, they are still seen at brandings and elsewhere using original tools and techniques on horseback. Hawaii has attracted people of many different ethnic origins, including Japan, Portugal, and China. Cattle ranches like Haleakala are exciting places to witness an elegant blending of the old with the new.
Ranching a Volcano Part 3, Ulupalakua Ranch, Maui — The Furrow
One April morning on the Hawaiian island of Maui, the manager of Haleakala Ranch, Greg Friel, and his son and grandson saddle up to herd cattle from one lush pasture to another. Eight thousand feet above them looms the mountain's crater, invisible among frothing clouds; two thousand feet below, the Pacific Ocean sparkles under sunny skies to the horizon.
Meanwhile, 16 miles away, the manager of Ulupalakua Ranch, Jimmy Gomes, is driving southward on the mid-mountain Pi'ilani Highway. He emerges from a bucolic forest onto terrain that looks like rural southern Italy, then enters territory that's drier still — a bed of hard basalt lava that spilled thousands of years ago from cracks in the earth. Gomes follows the road through more greenery where it dips to the ocean's edge. He parks at Kaupo Ranch, where manager Bobby Ferreira has gathered some prized Angus derivative bulls to sell. The two make a deal.
Around the bend northward from Kaupo lies one more of Maui's largest ranches, this one in radically different terrain, where waterfalls and foliage flourish in deep gorges under constant rains. Hana Ranch manager Josh Daniels is pioneering a business model he hopes will sustain both the ranch and the local families who depend on it.
Friel, Gomes, Ferreira, and Daniels work within a few miles of each other, yet their operations differ so much they might as well be a few states apart. The reason: the giant dormant volcano that makes up 75 percent of the island. In this three-part series, The Furrow looks at how ranches located on different aspects of the "House of the Sun" survive.
Highway 37 ascends gradually from Kahului Airport on the north coast of Maui, Hawaii up the slopes of the island's largest volcano, Haleakala. Un the region around 2,000 feet elevation, it enters communities where the island's permanent population has chosen to settle – cooler areas removed from the island's busy beaches and harbors. As it ventures southward toward the volcano's more remote leeward side, the highway touches sites that mark stages of the island's cultural history: the octagonal Holy Ghost Mission, built in 1894-95 for Portuguese sugar plantation workers; Grandma's Coffee House, which began roasting coffee in 1918; the 21st century retreat of Oprah Winfrey; and finally, the headquarters of Ulupalakua Ranch, where people from all over the world come to experience how one of Maui's most innovative families is finding new ways to pair the the nuts and bolts of agriculture with the people it serves.
Ranch Heritage Farming at Ulupalakua – at 18,000 acres Maui's second largest ranch – goes back 175 years through six different owners. From the native "poi economy," which produced taro, sweet potatoes and other crops, through sugar production and the raising of livestock, the ranch's changing tactics reflect Hawaii's evolution of modern ag.
In the 1840s, the poi economy started to recede when King Kamehameha III and his advisers argued that an economy of commercial agriculture would be a stronger driver of the island's future. In 1845 Captain Lincoln L. Torbert leased land in Ulupalakua to produce beef, hogs, sheep, sugar, molasses and Irish potatoes. But sugar operations all over the islands faltered as land prices, taxes and competition grew, and in 1856, a retired sea captain, James Makee, bought the Torbert Plantation and changed its name to Rose Ranch. His approach to sugar was successful: For a decade his mill produced 800 or more pounds of sugar per year on 1,000 acres. Makee had broad ideas: Capitalizing on lovely views, he planted exotic gardens, built cottages, and started what was perhaps Hawaii's first ag-tourism project — a festive retreat that became popular with royalty from the islands and visitors from around the world.
The ranch's next owner, James Isaac Dowsett, who held the property from 1886 to 1900, improved the cattle herd by bringing Aberdeen Angus stock to the islands. Dowsett sold to Dr. James M. Raymond, who in 1922 sold to Frank Baldwin, the grandson of Maui's first Christian missionaries. Baldwin renamed the place Ulupalakua Ranch. Today's operation began in 1963 when C. Pardee Erdman bought from the Baldwins. The Erdman family revived Makee's enterprising spirit, but in a different direction, developing the property into a favorite destination for both travelers and locals.
One of the first buildings that visitors see when they arrive is the colorful Ulupalakua Ranch Store & Grill. Incorporating new ideas about serving fresh food, the Erdman's brought in executive chef Will Munder, who fills the Grill menu with produce harvested locally and lamb and elk raised on the ranch. "Munder thinks outside of the box," says Jimmy Gomes, Ulupalakua Ranch Manager. "He's put some delicious meals on the menu that the store has never sold before. What we have now is word of mouth. People are saying, 'You need to go to the ranch to taste the food.'"
A visit can start with one of the daily estate tours that begin at a small museum. Photos of early ranch life show how Paniolo, Hawaii's distinctive cowboys, escorted cattle through the water from Makena Landing to waiting skiffs that took the animals to cargo ships bound for the U.S. mainland. Makena Landing is now a public park.
Guests also can see enormous trees surviving from Makee's ownership and a hula dance performance ring where Makee helped revive the island's ancient form of storytelling. They explore facilities for making pineapple-wine, and finish the tour at a wine-tasting bar inside the same cottage where King Kalãkaua and his wife, Queen Kapi'olani, spent many a festive evening in the late 19th century.
The tasting experience introduces much more than the ranch's famous pineapple wine. In 1974 the ranch partnered with Emil Tedeschi, of Napa Valley's Tedeschi Family Winery, to develop vineyards and new wines suitable for the tropics. Today, the vineyards produce Malbec, Syrah, Grenache, Viognier, Gewürztraminer and Chenin Blanc grapes. Wines from the ranch are distributed to many U.S. states and to four countries around the world.
Into the Outback Beyond the headquarters, Highway 37 extends south, southwest and then eastward across Haleakala into famously isolated leeward terrain. As the land plummets to dry coastal areas and rises to cooler forests at 6,500 feet elevation, it's easy to see how Ulupalakua Ranch covers a remarkable range of 10 microclimates. Far below, at the shoreline, condominiums and four star resorts rise from land that Ulupalakua once owned.
This part of the ranch also hosts one of the island's more startling scenes: Eight massive wind turbines that pin-wheel at "Star Wars" heights into the cobalt sky. The project was quite controversial when Ulupalakua first leased the land to Sempra Energy. The 3-meg turbines can power 10,000 homes, Gomes says. "We have income we never had before. It affords us to keep open space." Sometimes cattle can be seen clustered in a corral near the turbine's bases.
Further along the highway, the earth splits and the guts of Haleakala— rifts of chunky volcanic rock — spill in a vertical seam to the sea, a reminder of how the first of the Hawaiian Islands emerged 30 million years ago when a pool of hot magma began seeping out of cracks in ocean floor, according to the United States Geological Survey. As ocean's tectonic plate shifted, the emerging magma hardened in the cool water and built up in layers. Over thousands of years, more islands were born. Haleakala began its undersea life 1 to 2 million years ago. There are still active volcanoes in Hawaii, and active underwater vents are building new islands, but the USGS says the youngest of these won't reach the ocean's surface for another 30,000 to 100,000 years.
Cultural change has been quite a bit more volatile than geology in the past few hundred years, starting in the 12th century when Polynesians navigated to the island, and moving through the arrival of new ethnic groups that included Euro-Americans, Portuguese, Chinese, Japanese, and African Americans coming as laborers, missionaries and businessmen. Livestock producers have adapted by pooling all the tools, technologies and materials available to them. As one of the Ulupalakua tour guides likes to say, "The Erdmans are fixers." They are visionaries, too.
"You can't just survive only on cattle," Gomes says. "We're looking at new projects — aquaponics, tea, and alternative crops. We've started a koi seed orchard and we have goats and sheep for weed control. We've had a dry land reforestation project for the last 20 plus years, which has all been planted with native plants. All of these things will help us improve our bottom line."
Wouldn't the bottom line be stronger if the ranch converted its scenic acres into resorts, a person might ask. The owners would rather preserve Hawaii's ag tradition, Gomes says. "It's the lifestyle that we want to perpetuate," he says. "We want to be the best we can, and with that in mind we protect our natural resources, whether they be our spring water, the vegetation or the native plants. We want to be good stewards, diversify and continue employing people who love being in Hawaii."
Alaska's Williams Reindeer Ranch
Homestead Magazine
THREE YEARS AGO, Denise and Josh Hardy were living in Spokane, Washington, with their four children when they got a call from Denise's mom and dad, Gene and Tom Williams, who live on the family farm in Alaska.
The parents asked their daughter and son-in-law to move home and take over the family livestock business — raising not cattle or sheep, but reindeer. The answer was clear to Denise. Of course.
With their kids in transition between schools, the Hardys moved in with Grandma and Grandpa. Josh kept his full-time job as an adjuster with Safeco Insurance; Denise assumed responsibility for the reindeer farm's tourism program.
"Tom had always dreamed of having one of his children run the farm," Josh said. "The timing worked out well."
What happened then was a nothing short of a reindeer revival.
The place of Denis's childhood is a 1930s dairy farm built by in a New Deal program that moved settlers from the American Midwest into Alaska's fertile Matanuska-Susitna Valley. The settlement was called the Matanuska Colony. Located in wide river-bottomland surrounded by high mountain peaks, it was also the kind of place where Santa Clause liked to appear occasionally outside of Christmas. Denise was not about to let it go.
The deer had been part of Denise's life since 1987, when her dad arrived home from Canada with a semi-truck full of 19 reindeer. The thought of owning reindeer had captivated Tom Williams since high school. After starting a law practice in Anchorage, he finally had his chance to buy some. He developed the family ranch as a learning center about his so-called "cattle of the north."
Improving a good thing: One of the Hardys' first actions as managers was to redo the barn.
"It's still the barn where Tom milked cows when he was a kid," Josh explained, "but we've added to it. We have a heated area so food doesn't freeze in winter. The original chicken coop is now our gift shop. I know that it's original, because when I cleaned it out, it had original Matanuska Colony chicken poop in it."
They extended the tourism season with an October Festival and a Christmas extravaganza, which featured elves, Santa, and a 15,000-light and music show.
Their dad had already started a whacky annual spree called the Running of the Reindeer held during the Anchorage Fur Rendezvous in homage to the Running of the Bulls event in Pamplona, Spain. As onlookers cheer, reindeer stampede down city blocks chasing participants who run for the lives.
Explaining the breed: The changes worked, and now the Williams Reindeer Farm sees thousands of visitors a year. All three of Tom's daughters and their families get into the action. As tour guides, usually Denise or one of her sisters, Wendy and Kim, is the guide explaining that reindeer are domesticated cousins of the wild caribou. Their outer fur layer is hollow, which increases insulation and makes it easier for them to swim. The deer have two big toes in the front of their hooves, and two dew claws in the back. They have four stomachs, and it takes them 20 hours to digest their food. In summer, their antlers are coated in a sensitive velvet fuzz. The velvet sheds in fall, which leaves the antlers scarlet with blood for a few days before the bones turn white. Males lose their antlers in fall. Females keep theirs until after Christmas, which means —sorry kids — Rudolph is really a Rudolphina.
Sorting by niceness: Leading the tours is fun, but there's also serious work to be done. About 160 reindeer live on the farm. Last year, 70 calves were born. In spring, the animals are sorted according to temperament. The friendliest join the "show herd"; the less friendly get to enjoy life out in the fields for a while. In late summer, the whole herd is sorted for breeding, slaughter and sales. Some are sold for sleigh ride operations or to exotic animal collectors. Last year, some went to an animal movie star company in California. Females can sell for up to $3,000.
The deer are vaccinated and tested regularly tuberculosis, brucellosis and chronic wasting disease, Denise said.
For help, the Hardys hire six summer employees. They hire another 25 people during the busy fall festival. A couple of employees work year-round to help manage the herd. "They are the lucky ones who feed during all temperatures, even when they reach- 40° in winter," Denise said.
Visitors: Daily summer tours cost $8 for adults and $6 for kids. Visitors learn what reindeer eat, how their tendons click when they walk, and how the velvet-covered antlers are extremely sensitive. "I have seen a mosquito land on an antler, and the animal can feel it," Denise said. "If they hit their antler on something, it hurts them."
After the presentation, visitors mingle with the reindeer carrying plastic cups full of pellets made of barley, fish, soy meal, molasses, vitamins, minerals and salt. (The reindeer also eat grass, grain, and hay grown on another farm Williams owns near Anchorage.)
Daily visitor counts total anywhere from 90 to 250 in summer, Josh said. The October Festival brings in a couple of thousand people, and Christmas draws another few thousand. That's when Josh climbs into a red suit and adds Santa Clause to his repertoire.
"I get to be a very benevolent person for about two weeks out of the year," he said. "I love it." Kids love it, too.
The whole farm: The Hardys provide more than just reindeer attractions. In addition to the elk, there are horses, rabbits, chickens, a bison, and a tame moose named Denali. The more fearless of visitors feed Denali by holding out carrots with their mouths. The sight makes everyone double over with laughter.
The good feelings are not lost on the Hardys.
"You have moments of absolute beautiful glorious peace, here," Josh said. "The rest is hard work. The minute you're done fixing and correcting and nurturing, then the next problem hits, and you just keep going. That's the challenge of the American farmer, to adapt and overcome. If we can do it with reindeer, you can do it with anything."
All Photos Copyright Laura Read
Saving the Family Farm
San Francisco Chronicle Magazine
THE NECTARINE'S SKIN wrinkled into folds, releasing the sweet-tangy flesh underneath. Before the juice could dribble, I sucked it into the pockets of my cheeks and savored its goodness. I ate another. Afterward, I telephoned Twin Peaks Orchard, near Newcastle in Placer County, 75 miles away from my home in north Lake Tahoe. "I need a whole case of these nectarines," I said. I would be driving to San Francisco the next day; owner Sheila Enriquez agreed to meet me at the orchard on my way.
A few years ago, I didn't know a person could easily buy fruit directly from regional farmers. At the same time, many farmers in Placer County, which extends from just outside of Sacramento to north Lake Tahoe, didn't know there existed scores of people who would pay more for better tasting fruit fresh off the tree. In the late 1990s, they were in turmoil. Experiencing shrinking profits and expanding development pressure, family farmers were selling out. In five years, one sixth of Placer County's farmland vanished under new neighborhoods and malls. In 1997, 35 percent of Placer County's farmers were 65 years or older and ready to retire. Half of all farmers reported having no family members around to take over the farm.
What happened next could be called a lucky intersection of forces — a message, a woman and a moment. Things in Placer County reached a tipping point, to borrow the term from Malcolm Gladwell's book of that name.
From I-80, the route to Twin Peaks curves along stone-knuckled ridges, riverbeds and hollows that typify this section of the northern Sierra Nevada foothills. In June, fields of grass were already turning gold, their drying stalks releasing a smell of roasted wheat that seeped into my car's air system. At Twin Peaks Orchard, Enriquez greeted me with a hand that felt warm to the bone. Inside the barn sat my box, its 60 nectarines resting in neat plastic liners, blushing lightly.
I reached for one.
"You don't need to squeeze them," Enriquez said, the punchy cadence of her speech mimicking the rhythms of the landscape. "Everyone wants to squeeze them. You can tell they are ripe just by brushing them with your finger."
I pressed the skin of one. It felt cool and silky. I still wanted to squeeze.
Thirty years ago, Enriquez and her husband, Raul, became partners in the 50-acre farm with her stepfather, Howard Nakae, who had grown nectarines, plums, and peaches on the land since he was 5. Howard died last June at age 87. Fortunately, Sheila and Raul had gleaned many of his secrets.
"He had 15 rules to live by," Sheila said. "One of them is, 'Don't ask someone else to do what you can do yourself.' I know them in my heart, and I live them."
Twin Peaks is one of a handful of orchards operated by founding families. The first fruit trees were planted 200 years ago by Welsh immigrants who were quarrying granite. In 1848, a prospector discovered gold, and more immigrants rushed to the foothills. By the 1860s, the gold miners had moved to more lucrative mines in the higher mountains. Settlers who stayed behind learned that berries grew surprisingly well, and soon growers around Penryn, Newcastle and Auburn were sending strawberries, blackberries and raspberries by stage and rail as far away as Virginia City, Nev. In 1901, Newcastle shipped 1,862 railroad cars of local fruit. By the 1930s, fruit trees covered 60 percent of the region.
Some of the first orchard owners were Japanese immigrants. Howard Nakae's father, Yoshichka Nakae, founded the family orchard in 1912. Yoshichka helped many of his Japanese friends purchase property for farms, according to Enriquez, but his life ended tragically. At the time, racism percolated among his neighbors, and in 1932 an unknown assailant shot and killed him. Howard, then 13, stepped into his father's shoes and sustained the operation alongside his mother.
While business continued to flourish during the early century, farmers couldn't have anticipated the economic roller-coaster that lay ahead. Setbacks occurred in World War II when manual labor pools shrank and the federal government forced Japanese American families into internment camps. Neighbors looked after the abandoned orchards, and many of the interned families resumed production when they returned. After the war, the economy surged, and by the 1950s, Placer County farmers enjoyed national acclaim for the pears, plums and peaches they were sending nationwide by rail.
But in the 1960s, a pear blight struck. On its heels came a wave of unbeatable competition from Central Valley farms, which grew large quantities of fruit and shipped crops earlier at lower costs. The small farmers' usual wholesale customers canceled business. Farmers now had to travel farther to sell to stores for lower prices. Profits thinned.
Between 1995 and 2005, Sacramento's population exploded by 48 percent. Developers purchased swaths of Placer County's rural landscape for housing developments, golf courses and shopping malls. Land prices soared from $15,000 an acre in the 1980s to more than $80,000. Long-working farmers suddenly imagined themselves dozing in Caribbean hammocks instead of plucking fruit.
"Land prices continued to skyrocket and development continued unabated," said University of California Cooperative Extension Farm Adviser Roger Ingram. "In 1999, only about 50 percent of farmers surveyed indicated there was someone in the family willing to continue farming. A big majority of them wanted to retire, or maybe there was disability or death. They were wondering 'What will we do with this asset?' It was hard to ignore the huge opportunity costs of selling."
But many Placer County residents didn't want blacktop to replace their serene landscapes. In the late 1990s, the county supervisors convened citizen committees to guide what soon became "Placer Legacy," a program to protect the county's agricultural assets and open space.
Out of those meetings came wisdom, according to the county's Agricultural Commissioner, Christine Turner. "The growers told the board of supervisors, "We're very good at growing what we grow, but we don't necessarily have the skill set for effective marketing." The farmers asked the county to hire a full-time agriculture marketing expert. It would be the first county-funded "ag" marketing director in California.
The supervisors allocated $68,000 for the program. Right away, a compelling application arrived from someone familiar to politicians and farmers alike. Auburn resident Joanne Neft had community connections, a creative imagination and chutzpah. She vowed to change the shopping and eating habits of a region.
At age 65, Neft already possessed an arc of experience with both agriculture and business. As a child growing up on a Minnesota farm, she had occasionally accompanied her father to the local market. "It was a treat for me to go to market," she said recently. "My dad would pick the kohlrabi, leave the stems on, peel off the outer skin, and hand it to me. I would eat it as though it were a Popsicle."
Neft attended Barnes School of Commerce, a private business school in Denver. Between 1970 and the mid-1980s, she operated and owned several businesses in Tahoe City — Patton Lumber Co. with her first husband; North Shore Travel and The Mayfield House, a Julia Morgan inspired Bed and Breakfast inn. She then moved briefly to Long Beach, but missed living in Northern California. "I decided to return to Placer County and change my lifestyle," she recalled. The decision was based on vegetables. "The thing I enjoyed most was going to the Santa Barbara farmers' market — being there among the produce. So I went up to Placer County to start my own farmers' market." The county needed a manager for the existing Foothill Farmers Market Association. In 1989, she got the job.
In the beginning there was one market, in the town of Loomis, where up to 39 growers filled stalls every Sunday with strawberries, peaches, corn, beans, lettuce and other fresh stuff. Neft then opened another market in north Lake Tahoe. "I knew the Tahoe market would be successful," Neft said. "People were craving the freshness of the earth and it wasn't available there." She was right. In 1990, 67 growers served 3,000 shoppers per week in the Auburn, Loomis and Tahoe City markets combined. Some farmers reported earning $4,000 in a single day. Within three years, Neft was managing six weekly markets.
Her next job was with the Twelve Bridges development corporation, where she launched an education foundation and encouraged the corporation to donate 179 acres for a mandarin orchard available for public classroom use.
By 2001, Neft's web of connections included movers and shakers who trusted her instincts.
"You cannot pay anybody to have passion," Christine Turner said. "Hiring Joanne as the agricultural marketing director allowed us to hire someone who has the skills and passion to make it happen, and to pay her for that so she can spend her time working on it."
To create new markets, Neft spread the news that food bought from local farmers tastes better and contains more nutrients than imported produce found at supermarkets. Her strategy was simple: get shoppers to meet the farmers and taste the fruit, tell true stories about the benefits of locally grown produce and create opportunities for the product to sell itself.
"If we are totally honest when we tell our stories," she reflected, "people know the difference. Way deep down, people know the difference between fluffy marketing and credible marketing."
Are Placer County fruits eaten fresh from the orchard better than store-bought? To bolster her message, Neft turned to specialists like horticulturalist Cindy Fake. As the University of California Cooperative Extension Small Farm Adviser, Fake spends most days in the field providing research-based information to Placer and Nevada County farmers.
There are two major factors influencing the qualities of mountain-grown fruit, Fake said. Climate is one of them. "Placer County often has a difference of 40 or 50 degrees between daytime highs and nighttime lows," she said. "Sugars accumulated during the day when the plant is photosynthesizing, are not used up during the night, because plant processes slow down when temperatures drop. Sugars and flavor components then accumulate in the fruit, making a rich, sweet flavor that is unparalleled in fruit grown in a more moderated climate."
Dirt is another. Much of the soil that once covered the Sierra foothills has been washed into the Central Valley by rains and other forms of erosion. "The shallow foothill soils have low native fertility," Fake explained. "Growers amend them with lots of organic matter, which maintains fertility and holds moisture. While the plants' needs are met in terms of water and nutrients, the plants are not overfed, as they are at many large orchards."
Finally, the small-farm fruit isn't picked early, as fruit often is at large commercial farms. Instead, growers allow it to ripen on the tree. "Most of it is sold within 50 miles or so," Fake said. "If it is shipped, it is carefully packed so that it maintains quality."
The new marketing program included media, grower, and consumer outreach and education, event-development and promotion, and collaboration. Neft wanted to increase demand and create new opportunities for people to buy produce directly from the farmer.
"Direct marketing increases profitability," Agriculture Commissioner Christine Turner noted. "It eliminates the middle man, and the farmers get a better price per pound for what they are producing. The consumers get fresher fruits and vegetables, and they know the person who grew them. It also keeps dollars within the local economy."
Neft enhanced existing tourist events, and created new ones. With additional marketing, she turned an event she had launched 12 years ago, the Mountain Mandarin Festival (Nov. 18 and 19, this year), into a blockbuster. Last year it gathered 35,000 citrus lovers together around the zesty "zipper" fruit, so-called for its easy-to-peel qualities. The festival is all things mandarin — shakes, trees, syrups, salad dressings and more. "We sell in the thousands of dollars," said Rich Ferreira, who tends 2,000 mandarin trees on his 30-year-old farm, Side Hill Citrus.
A recent new event is the annual Placer Farm & Barn Tour, this year on Oct. 8. Last year it drew 2,500 people who roamed among the oak-wooded foothills to visit working farms and ranches, a historic schoolhouse, wineries and produce markets.
Between big events, Neft hand-carried produce to small events. Anyone biting into a local fruit or vegetable — the kiwis, the lettuce, the pluots, the peaches — could become a convert. "Many times I attended the events myself," Neft said. "I'd tell people, 'These are Placer grown peaches just picked this morning. Taste them; they're delicious.'"
She also served the food. "In three years at the Gold Country fair, we served probably more than 1,000 people," she said. And she motivated a diverse cast of helpers — from lawyers to bureaucrats, pharmacists to artists … "anybody willing to come along for the ride," she explained. "One year it was the agriculture commissioner, another, the USDA adviser. Many different people got together and peeled, sliced and diced." She was not only spreading the news, but also building a community.
Neft worked with University of California students and professors to generate new promotional strategies. The U.C. Sustainable Agriculture and Research Program (SAREP) is a state-wide program based at U.C. Davis that produces research and education for agriculture and food systems. Recently, SAREP researchers have generated reports on Placer County food trends, as well as marketing possibilities for mandarins and Hoshigaki, the ancient Japanese art of hand-dried persimmons.
Fine art figured early in the plan. One year Neft commissioned local artist Everett Jensen to paint 26 portraits of leaders in the city of Auburn for the exhibit, "Auburn 2005: Portraits of a Place." Each painting featured the fruit in season the day the portrait was painted. Another year, partnering with the UC Davis School of Design, she launched Agro-Art, a festival of visual arts created with fresh produce. That event is now part of the Farm & Barn Tour. She also encouraged artisans to erect booths on farms during the Farm & Barn tour. Now some farms have official "artists in residence" programs.
Finally, the marketing program helped farmers to build markets for "boutique" produce, and price them accordingly. Neft realized that hoshigaki — persimmons that are hand-massaged regularly for a month until the natural sugars rise to the surface — would be a good model.
She tells of how farmer Tosh Kuratomi of Otow Orchards one day charged her $24 for three pounds of hoshigaki. She asked, "How could you possibly do all this hand labor and not be rewarded for your time?" Kuratomi answered, "That's just not the way it is, Joanne." In order to spur demand, Neft generated articles in the Sacramento Bee, Sierra Heritage magazine, and the L.A. Times. "My intuition told me, if I'm willing to pay $10 pound for it, someone else would pay it if they understood the kind of effort that went into this product. Every piece is touched probably 10 times. Why would that not have a value?"
When dried, a piece of hoshigaki resembles a palm-sized monk in brown robes powdered with sugar. It tastes something like a fig, only sweeter. "The short story is, last year they were getting $25 per pound," Neft said.
Neft recognized hidden opportunities. She believed that farmers and their customers could know one another even better if the growers offered overnight farm stays. "People want a connection with farms," she reasoned. "They want to know something about the person who feeds them."
Compelling stories came easily to her, quite often in her own kitchen while she was baking pies. Christine Turner recalls the year one grower related that all the apple varieties were ripening at once instead of on their usual staggered schedule. "We had so many apples we didn't know what to do with them all," she recalled. "Joanne called the newspapers and said, 'We have an opportunity here, and the story will have good photos.' The article about fresh-picked apples in season available at local farms hit the Auburn Journal front page. That weekend the apple growers sold out."
Years ago, Neft recognized the story opportunities presented by the Satsuma mandarin.
"Satsuma mandarins are seedless, juicy, easy to peel, and healthy," she said. "They are one of the super foods. They are very high in vitamin C. The white fibrous material in them is high in synephrine. Mandarins are in season at the perfect time of year when we need to have that kind of food in our system."
Her attention to the crop created a new chapter in the mandarin story. With better marketing, the annual Mandarin Festival attracted visitors from all over California. A Mountain Mandarin Tour of orchards drew 20,000 people last year. A UC Davis study reported that while average annual U.S. Mandarin consumption hovers at about 1 pound per person, in Placer County, it is now 3.5 pounds per person, up from 1 pound in 2001.
"A seed I'd like to plant is that mandarins are the perfect holiday gift," Neft said. "Last year I shipped over 700 pounds of mandarins. It is the perfect gift because it is a gift of health. Who would not want to receive a box of mandarins?"
A key success has been the Foothill Farmers' Market. Since 2002, manager Christina Abuelo has orchestrated a growth surge in the markets serving Placer and Nevada counties. In 2002, 83 growers contributed to seven weekly markets. This year, more than 200 growers supplied 16 markets, Abuelo said.
"Because of the economy, a lot of people are getting laid off from other work," Abuelo said. "The farmers' market is now their new livelihood."
Shoppers arrive early at the farmers' markets carrying canvas bags they'll fill to bursting with blackberries, strawberries, blueberries, persimmons, plums, raspberries, rhubarb, nectarines, peaches, plums, figs, kiwis, melons, corn, lettuce, broccoli, eggplant, squash, tomatoes, zucchini, flowers, nuts and much more. When asked why they shop at the open-air market stalls available only one day a week, when they can shop anytime at a supermarket, customers say the farmers' markets help them to eat better.
"This is the way the rest of the world shops for food," said north Lake Tahoe resident Julie Conover, who travels extensively to produce the PBS adventure travel series "Passport to Adventure." "A few years ago, I decided less is more. Rather than going to Costco, I come here. Instead of treating myself to chocolate cake, I treat myself to blueberries."
Has the marketing program changed farmers' lives? "Farmers will not tell you how much they are making," Neft said, "but they will say 'Business is alive now; the business of agriculture has been redeemed.'" Buried in a 2006 Placer County economic and demographic profile is support for that statement. Employment in the county's agriculture sector nearly doubled between 2001 and 2004, from 400 to 700, reflecting growth in the numbers of grapes and mandarin crops planted, according to farm adviser Roger Ingram.
"Farmers are more aware of what marketing requires and of its importance," added Fake. "They are more willing to think about different types of marketing, and to try something new.I think growers are prouder of what they do because they know others value them and realize the freshness and quality of their products."
And, growers and their customers have new relationships. "Every mandarin grower has their customers who say 'We love your fruit, we like you and we want to buy from you,'" said Highland Orchard owner Tony Aguilar. "They always do come back."
And farmers are acting to preserve their land forever. "My property will be put into a trust so it can't be developed," said Rich Ferreira. But he admits his daughters aren't eager to run the business. "I hope I'll be able to continue long enough to where they've picked a career and married, and their husbands will want to take over."
As for the Nakae family, after Howard died, there was talk of selling the farm, but that soon ended. "It will be a family operation," Sheila Enriquez said. "My stepsister will help, and some of the younger people will be able to work here."
Deborah Madison, a Davis native who was the founding chef at Green's Fort Mason restaurant, reasoned you can't always fit these benefits into traditional economic models. "A more subtle texture can be found in these smaller communities, which has to do with biodiversity, nuance and tradition, rather than just production," she said recently in an interview from her New Mexico home. "It may be that not many people ever taste that persimmon, but there will be those who do, and it will become a tradition for them to continue eating them. You went to a farm; you had an experience that mattered, something that connected you to a place, a person and ultimately the history of the land. Small farms are vital to the health of any community."
During Neft's tenure as Placer County's agriculture marketing director — she retired this year — she used connections, stories and personal dynamism to fuel a movement. While farmers will always struggle to gain markets and manage setbacks, in Placer County, they now have a community behind them.
"We don't have to create quality of life," Neft said. "We can preserve quality of life by understanding who we are and how we are connected to the place where we live. And by caring for it, for goodness sake. It's so easy to identify that and make it happen."
All Photos are Copyright Laura Read
A Peruvian Greenhouse in the Sierra Nevada
Furrow Magazine
FOR GENERATIONS, the Aymara Indians in the South American Andes have long extended their growing seasons with walipini — greenhouses built into the earth. Slide northward a few thousand miles to the California's Sierra Valley, a high alpine valley at 5,000 feet elevation in the Sierra Nevada. In 2010, third-generation farmer Gary Romano was alerted by a friend to a walipini-style greenhouse left vacant on a neighbor's ranch. He thought this underground greenhouse might extend the two-month growing season on his a 65-acre Sierra Valley Farms. Romano made an arrangement with the property owner, and started in on the restoration. He hoped the results would be good, but he wasn't certain. "My goal was to see what it could do," he said. "What would grow the best in winter and in summer."
Energy-Saver: Built seven feet into the earth, the 30-foot by 100-foot greenhouse has a cantilevered roof of dual-pane Plexiglas panels that open with a hand lever. The lever offsets the roof's weight with ten 15-gallon pots filled with soil and plants. The UV-rated Plexiglas diffuses the light and seals the space from outside conditions. The soil absorbs daytime temperatures and becomes the insulating blanket during the cold nights. The structure is plumbed for irrigation, but there is no electrical power.
Since buying his farm from his aunt and uncle in 1989, Romano has gained organic certification and diversified production with native plants, horseradish, and cool weather vegetables such as salad greens, carrots, beets and radishes. He supplies greens to half a dozen local restaurants, and provides for a monthly outdoor farm-to-table series he hosts in his 1938 barn. A boost in production at the greenhouse would allow him to meet growing demand. In 2010, he and his assistant Ryan Kiesling set to work.
Restoration: Viewed from below, the greenhouse nearly disappears into the hillside. When Romano creaked open the door for the first time, he saw that the neglected sand dirt inside was hard as cement. "It had gotten so hot in there that the soil was dehydrated," he said. "There were snake and scorpion skeletons and black widows everywhere."
His first act was to rip open the soil. "We hand spaded it, double dug it, and watered it with garden hoses four hours a day for two weeks, breaking up the adhesions and getting water into it," he said.
From horse pastures down the hillside, he and Kiesling wheel-burrowed ten tons of three-year-old manure into the structure. They ordered three pickup loads of commercial organic compost from Carson City, and brought in piles of rotten hay/straw from a nearby friend's barn. With the soil duly augmented, in February 2011, they planted broccoli and cabbage, and then turned the plants back into the soil. To introduce nitrogen, they seeded peas.
Experiments: "In the first year, we grew everything we could think of," Romano said, "melons tomatoes, spinach, strawberries, beans — you name it." Then came tomatoes. "We put in 700 plants. They grew seven to eight feet tall, but they didn't ripen. When you get seven to eight feet below ground, the soil temperature is 58 to 65 degrees. The tomato roots thought it was spring. It took six months to get tomatoes. We made a decent profit, but the tomato plants tied up the greenhouse for too long."
That fall he filled the beds with arugula, kale, and other greens. He planted perennial sorrel, sage, thyme, oregano, and parsley and let them flower to provide habitat for ladybugs, which reduced insect infestations. He also set up in-house composting. "We pull the plants out by the roots and create a composting pile with them in the corner of the greenhouse," Romano said. "In two to three months we have fully composted compost from the crops we're taking out."
Results: The Andian-style greenhouse has indeed met its goals. It is producing 10 to 12 garbage bags full of greens every two to three days, Romano said. "It was definitely a learning curve, but we narrowed it down celery, strawberries, herbs, greens — and onions and garlic in the hanging pots."
If they could see him now, the Aymaras would be proud.
All Photos Copyright Laura Read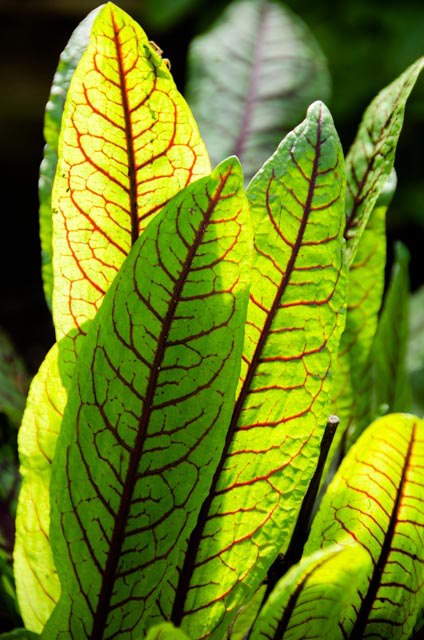 A San Francisco Garden on Telegraph Hill - Homestead Magazine
Homestead Magazine
IN 1949, THE PICTURE window of Grace Marchant's flat, on Telegraph Hill in San Francisco, framed a discouraging view: The empty lot next door held a tangle of old bedsprings, bottles, and lumber, cast-offs from dismantled earlier lives that had once populated the slopes above the city's hectic waterfront. One day, the fed-up 63-year-old marched outside and hurled the bottles and bedsprings off a cliff onto the empty lot below. What happened next is just a twig short of legend.
On a recent morning, the writer and publisher Larry Habegger, who moved next door to Marchant in the 1970s, reconstructed the anecdote during a chat in his kitchen overlooking the hillside sprawl of leaves, limbs and flowers. The cliff she'd hurled the stuff over was the lip of an old quarry, he said, and the debris that landed below annoyed the agents of the city. But Marchant didn't care. "When the city ordered her to stop, she told them to stuff it," he said.
Marchant, who'd seen a fair amount of life's quirks already — she'd been a shipyard riveter, a ceramic artist, and a stuntwoman in the silent movies, among other things — had an unwavering vision for the space. It would shimmer with beauty and color; it would be a garden. What she didn't envision was that someday her efforts would grow influence beyond her realm, and charm the world.
Telegraph Hill rises 284 feet above the San Francisco Bay. At its summit is the 1933 landmark, Coit Tower, from which you can gaze onto such treasured sites as Alcatraz, Angel Island, and the graceful Golden Gate Bridge. Halfway down the east slope, on the warmer, less-windy side of the hill, blooms Marchant's half-acre of paradise.
To get there, you don't simply park and walk; you climb. From Sansome Street below, Filbert Street turns into 95 metal and concrete steps zig-zagging up the old quarry face. At the top, a wooden stairway appears, and then a refreshing scene unfolds — wildly vivid, fragrant, and twittering with the chatter of people and birds, it is Marchant's garden in bloom. There are pink teardrops of fuchsia, bold plumes of hydrangea, and speckles of anemone. There are groves of cone-shape foxglove and sprays of quivering poppy. There are green-fanning banana trees, yellow-fruited loquat, and princess trees spilling with violet trumpets. Everywhere grows Marchant's favorite flower, the rose.
This is similar to what Habegger found when he first explored the steps with a friend some 37 years ago. "We saw hummingbirds and flowers everywhere," he recalled. "It was like walking into an Eden."
One cottage in particular caught his eye that day, and as he returned to the lavish block, enjoying the garden again and again, he started to dream of living in the house someday. What happened a year and a half later can only be called fate. The house's resident, Gary Kray, advertised for a roommate. When Habegger moved in, it touched off a life-long friendship binding the two of them to the wildly tumultuous pocket of greenery outside.
In the 1875 house next door to Kray lived Grace Marchant; by now tending the garden was her daily passion. "She had turned a junkyard into an oasis of beautiful flowers and tranquility," Habegger said. "Everybody appreciated what she did. She did it with no compensation."
Habegger learned that when Marchant had started the garden, she'd been suffering from arthritis, but time among the plants had limbered up her joints and eased her pain. In her 90s when he moved in, she was finding the work more difficult, especially the weeding. "Occasionally the neighbors would get together for weeding parties," Habegger said. "We'd work for half a day, and a few weeks later the weeds would be back."
In 1979, Kray decided to help more consistently as her apprentice. "He learned how to garden from her, and he fell in love with the garden through her," Habegger said. "From her death in 1982 on, Gary took care of everything."
Kray brought the garden entered a new phase. He installed tree ferns, Italian cypress, and palm trees — plants that added variety and height yet did not shade the flowers that needed sun. "Rather than having everything be trim and neat, Gary liked painting the garden with colors and textures," Habegger said.
The garden gained fame in guidebooks and travelogues, and its place as a landmark seemed secure – until 1984. That's when a developer made moves to down an existing cottage nearby and build something much larger that would boom into the cultivated lot.
Neighbors were appalled. Together with Habegger and Kray they formed an ad-hoc organization, Friends of the Garden, to raise funds and buy the land and cottage. The required $320,000 seemed a phenomenal sum, but the group had verve.
"We ran a square-inch campaign," Habegger said. "If you sent $10 to our cause, you'd get a certificate saying you'd have figurative title to one square inch of the Grace Marchant Garden." Newspaper stories and a t-shirt campaign generated donations, and the group eventually raised $210,000 from 4,000 donors. The Trust for Public Land fronted remaining funds, sealing the purchase. The Friends then sold the cottage with deed restrictions so it could never be expanded, and they paid back the Trust. Leftover funds went into an endowment. The garden was saved.
During the same decade, Kray and Habegger were able to buy the house where Marchant had lived. In 1990, Habegger and his future wife, Paula McCabe, moved into the top floor apartment.
Kray's time as garden curator sadly ended in 2012 when he died of heart failure, ripping a hole in the Habbaggers' lives and opening a question about who would tend the garden. The uncertainty didn't last. McCabe had been helping Kray with the garden for 10 years, and she and Habegger gamely took over the task. Now they have their own goals, which include clearing out the big, leafy ferns that camouflage some of the flowers, and cleaning up the paths in order to make the garden more inviting.
"I really enjoy doing it," McCabe said. "I love having it on my doorstep. When I'm out here, I'm very happy."
Just then, two young women walking by stop for a moment to watch the McCabe, the secret tender of the garden. One thoughtfully turns to her friend and says, "It's wonderful what she does. It's a gift to the city."
And the Grace Marchant Garden is a gift to its curators, as well.
All Photos Copyright Laura Read
Tahoe's Stone Age - San Francisco Chronicle
In the winter of '75, Lake Tahoe resident Gary Chaney learned that a 1929 house made entirely of stone was for sale on the West Shore's McKinney Bay. Having grown up with parents who renovated mansions, he liked classic old houses. That February, he went for an inspection. He found 8 feet of snow piled against 2-foot-thick walls made of Sierra granite and other rocks from the region. Boards blocked the windows.
To reach the front door, Chaney tunneled through a hole his Realtor had cleared the day before. Once inside the house, he brandished his flashlight to discover fantastic expressive details.
"The arches between rooms were Romanesque in style, and the doorway arches were pointed Gothic," he said. Walls were composed of stones and boulders and decorative pebbles of every hue and shape. A soaring chunky fireplace anchored the gable end, and the living room ceiling vaulted to 21 feet, supported by huge scissor beams.
A century ago, houses like the one Chaney explored were ideal structures at Lake Tahoe. They were cozy and didn't need much upkeep, and building materials were abundant and cheap. It's a testament to construction and material durability that many of the houses endure today in more than two dozen locations on every shore of the lake, some still owned by original family members. During the economic slump, at least four were on the market; two changed hands last year.
Who'd want to live in a cabin of stone?
A lot of people did in the 1920s, a time when small, private lots were coming on the market, and several vacationers could afford them. The homes tended to be located close to material sources, noted David Gemme, 40, a Realtor with Chase International who during a previous building career constructed two stone cottages on Ring Road near D.L. Bliss State Park. "Other mountain resort areas don't have the variety of stones we have here. There are practical advantages to it: low maintenance, the insulation barrier and soundproofing."
And the undeniable old-world ambience.
Stone houses are storyboards for the ancient geologic past, when tectonic plate shifts, volcanic flow and glacial creep were shaping Lake Tahoe's canyons, ridges and bluffs. According to Jim Howle, a hydrologist/geologist with the U.S. Geological Survey, a 2 million-year-old pinkish porphyritic andesite used in North Shore houses came from volcanic flows from Mount Watson near Tahoe City. Chimney rocks in a dapple of amber hues probably originated in even older deposits near Squaw Valley. Granite boulders found in many walls were polished smooth by glaciers or sculpted by rushing water. Decorative colorful pebbles were younger volcanic offspring washed smooth in Blackwood Canyon or on certain Tahoe beaches.
A few of the smaller bungalows contain the splashy mineral rocks of northwestern Nevada. In the 1920s, there were a couple of property owners in Zephyr Cove who loved collecting Nevada's colorful rocks, according to the granddaughter of one of them, Ginny Kish. They hired Washo, Shoshone and Paiute students studying masonry at the Stewart Indian School in Carson City to do the stonework on their new construction. In some of the homes, the distinctive mortar was blackened with carbon.
Stewart Indian School students also built the 1939 George Whittell Estate, a sprawling stone compound consisting of a card house, caretaker's house and butler cottage on the East Shore near Incline Village. The estate is now open occasionally for tours.
One stone cottage now on the market is among a trio of West Shore 1920s homes built by a stonemason from Italy named Umberto Sprellio. According to real estate broker Jeff Hurst, the house, then owned by Henry Droste, appealed to a visitor, industrialist Henry J. Kaiser, who hired Sprellio to be head mason at his own estate, now Fleur de Lac Estates, where the 1974 movie "The Godfather: Part II" was filmed.
The stone look has survived the decades, but typically now is reduced to facade ornament to reduce costs and meet newer building codes. Occasionally, contemporary builders will clad most of a timber frame house in stone, as in three recent places built by Bruce Olson (on the Truckee River), Brian Murphy (on the North Shore) and John Brink (in Lahontan). The new homes tend to contain Sheetrock interior walls. They're easy to clean but lack the Hogwarts vibe.
Maybe it was the old-world character that stirred Gary Chaney back in 1975 when he entered the old stone house for sale. Or, maybe, as Chaney likes to imply, his interest was wholly practical.
"You can't change a stone wall," he said, "but you also don't need to maintain a stone wall much. And I hate to paint."
Either way, he bought the house. In 1980, he and his wife, Lori, opened it as the Chaney House B&B. They own it to this day.
Most Photos Copyright Laura Read
High Style Affordable Housing - Tahoe Quarterly
Tahoe Quarterly
A few years ago when Amy Larkin, the education director for the Art Association of Jackson Hole, looked into buying a home, the 31-year-old couldn't afford what she liked, and she didn't like what she could afford.
"Most of the affordable housing options were poorly built and poorly designed," says Larkin. But last year a new option opened in Jackson: a condominium complex at 810 Snow King that differed radically from the town's Old West architecture. It features low-angled roofs, abundant metal and glass and an unusual mustard-olive and sun-yellow paint scheme. And at $196,000, a 1,100 square foot, 2- modern answers to a modern problem bedroom unit was perfect for Larkin.
"It's quiet and the space is great," Larkin says, adding that the condo is a far cry from the yurt where she previously lived. "I have running water—and a garage."
A number of Western mountain towns are turning to modern architecture to help solve their affordable housing needs. These progressive designs lower the construction and maintenance costs of the projects with simple but efficient materials and floorplans.
And by leaping traditional boundaries, they have also energized vigorous local debates. What is the range of "good design" for a mountain community? Must affordable housing structures mimic the existing milieu? How can the shapes and sizes of these projects be both utilitarian and attractive?
One thing that is not being debated in these communities, as at Lake Tahoe, is the need for affordable housing. With Tahoe's median home prices now over $1 million, businesses are having increasing problems attracting and keeping quality employees. Units in the following projects, all in towns with similar or even higher real estate values, have sold for between $80,000 and $300,000.
Are modern architecture solutions appropriate for Tahoe? You be the judge.
810 Snow KingWhere: Jackson, WYWhen: April 2005Who: Stephen Dynia Architects
This 36-unit project on 6 acres at the base of Snow King Resort combines market and deed-restricted units. The 14 marketrate units sold in the $500,000 range, according to architect Stephen Dynia, who with his partner, real estate broker Greg Prugh Jr., developed the project after buying the property from the town at a lower-than-market price. The 22 deed-restricted units started at $180,000. Their resale values are capped at standard of living increases.
The project's contemporary style ignited fiery debates in Jackson's bookstores, bagel shops and cowboy bars over whether its angular shapes fit into Jackson's Old West ambiance. Dynia argues that they do. He has extensively photographed and studied ranch buildings throughout the West, he says. The materials, while put to modern use, are rooted in history. Its colors—bright yellows and olive browns—are borrowed from nature.
Plentiful glass lets in outside views and provides passive solar heating. Cement-fiberboard siding and galvanized corrugated steel ensure low maintenance and durability.
"There is an austerity that I find appealing," says Dynia. "I tried to make the forms and the applications simple."
Meridian CourtWhere: Mammoth Lakes, CAWhen: to be completed in 2006Who: Palomino Barth Architects
Close up, the Meridian Court complex in Mammoth Lakes looks traditional—six pitched-roof, earth-toned houses connected to the street with sidewalks, yards and front porches. But a wider view reveals that the traditional structures share the landscape with urban-looking, low-angled contemporary buildings painted mauve, eggplant and burgundy.
"We wanted to see a unique design that identifies the project as an asset to the community, something that the community takes pride in," says Andrea Clark, executive director of Mammoth Lakes Housing. "A resort community that tackles its workforce housing problem creates stability through affordable homeownership. Families raise their children in the community, people stay in their jobs longer, they volunteer for the fire department, and they put their children in school."
The project is being developed by Mammoth Lakes Housing and has been subsidized by the Town of Mammoth Lakes with $1 million raised through transient occupancy taxes. When finished, the 1- to 3-bedroom units will sell for $80,000 to $350,000 and house 24 families. The resale values will be capped to median income increases. The structures utilize low maintenance, cement-fiberboard siding, durable interior finishes, passive solar designs and efficient, forced-air heating.
7th & MainAffordable HousingWhere: Aspen, COWhen: 2005Who: Studio B Architects
As with Mammoth's Meridian Court, the 7th and Main project in Aspen blends historical styles with modern. However, its buildings combine different uses, residential and commercial, to form a transition zone between neighborhoods and the downtown core.
"We were careful to relate to the historical context already established," says Gilbert Sanchez, project manager at Studio B Architects. "At the same time we took that historical context and reinterpreted it in a modern way."
Three project components of contrasting designs create an appealing stylistic tension. Varying from old-time commercial to funky modern, they are united by color schemes and architectural details. Those located next to existing large houses in the neighborhood are more traditional with gabled roof forms. In a nod to old western boardwalk facades, buildings next to existing commercial structures mix flat roofs, gabled roofs and false fronts. To the rear of the complex, smaller condo units express a more modern sensibility in funky, shed-like forms.
"We think it is a very exciting composition," Sanchez says. "It has a dynamic quality that distinguishes it from most of the buildings on Main Street, but it doesn't jar the eye—the massing is broken up. Everything fits within the context, which is one reason the historical preservation commission thought it was a very good project."
Little AjaxWhen: to be completed in 2006Who: Peter L. Gluck & Partners
The contemporary, angular design of this 14-unit project in Aspen's core inspired plenty of opposition over design, density and its location next to open space.
According to a local quoted by the Aspen Times, "... something so modern just doesn't seem to work with the neighborhood." Nevertheless, town council members approved the project, 4-1, with supporters calling its design "striking."
Like 810 Snow King in Jackson, this project is a transition between a city grid and a mountainside. It combines flat roofs and angular shapes in three-story buildings with below-unit parking. When completed this year, the condos will sell for $200,000 and up.
Early opponents didn't faze architect Peter Gluck, who said his design is more practical on all fronts. "There's this incredible, misplaced nostalgia for pitched roofs," he says. "It's crazy. Pitched roofs are terrible for the mountains. The snow slides off; it's hard to make entrances to buildings where people don't get hurt; ice dams build up and the buildings leak."
What does Gluck think of the nostalgia for traditional mountain designs? "Architecture involves function, form and structure. Modern architecture is meant to respond directly to people's needs, to the use of the building, the appreciation of the materials. When buildings mimic the past, people's lives are then like someone else's, like the mythic good old days. What's the matter with today? What's the matter with dealing with our lifestyles in an intelligent way?"
Let There Be (Renewable) Light - Tahoe Quarterly
Tahoe Quarterly
The City of Roseville has been hot news lately—not just for its soaring population, but also for its solar boom. Roseville, where Sacramento creeps into the foothills, aims to have 10 to 20 percent of its new homes built with integrated solar panels and energy-efficient features such as upgraded insulation, test-tight ducts, energy- and water efficient water heaters and certified Energy Star appliances. To spark the trend, the city-owned utility Roseville Electric offers developers pocketbook incentives that can amount up to $8,500 in savings per home. In anticipation, more than 100 new solar homes have been completed in subdivision developments since 2001. Currently, a subdivision project for 635 new solar and energy-efficient homes, built by Lennar, is under construction in the West Roseville Specific Plan Area.
"For a city of 105,000, that's not too bad," says Vonette McCauley, Roseville Electric's public relations manager. "We understood the future was going to include renewables. We need to think creatively about what we can do to reduce our consumption."
Roseville has good reason to jump on the solar bandwagon. It is the fifth fastest growing city of its size in the nation. Projections indicate the greater Sacramento region, including Roseville, will grow by 1.7 million residents by 2050—nearly doubling its current population. Some 840,000 homes will have to be built, according to recent study results, doubling the number of single-family homes to around 1.5 million. Roseville will see approximately 41,000 of these new housing units. If progressive thinking about saving energy isn't applied, it could be goodbye farmland and rural atmosphere, hello traffic snarls and asthma for Roseville.
Could such economic incentives be applied to this region of the Sierra? They are not currently available, despite the fact that the Northern Sierra and Northern Nevada are ideal parts of the country for harnessing solar energy. Perhaps a look at what Roseville and a few other communities are experiencing will stimulate interest in similar broad-scale programs locally.
To avoid soaring energy consumption, Roseville Electric is offering $4 per watt rebates for solar panels installed in new or retrofitted homes. Homebuilders will also receive $500 in rebates for energy-efficient measures. Solar panel systems can produce more energy than a household needs, and excess power will be credited to the homeowner on the bill.
Conservation efforts really do save homeowners money, according to McCauley. Studies indicate that homes with solar panels and energy-efficient features can reduce utility bills up to 50 percent. The average usage in Roseville—for all homes, including apartments, condos, smaller older houses and big houses as large as 5,000 square feet—is 790 kilowatt-hours (kWh) per month. In a new solar neighborhood built by Premier Homes, the average use for homes (more uniform in size than the average customer base) has been 430 kWh per month, according to McCauley. Homeowners may pay more up front for solar panels and higher quality appliances, windows and heating systems. But as the costs of heating the energy-efficient home remain lower than costs for standard homes, the homeowner eventually recoups the initial investment and saves money in the long run.
Roseville Electric has already worked with homebuilders to produce solar homes in two subdivisions so far. Lennar Homes was the first national homebuilder to make a large commitment to solar and energy efficiency in the Roseville area, through the Preferred Home Diamond program. Yet many more builders are watching how the Lennar project plays out and have shown great interest. So far, the public has paid attention too, according to McCauley.
A few miles away, the Sacramento Municipal Utility District (SMUD) is also offering energy efficiency incentives to developers. A new community by Treasure Homes, the Fallen Leaf at Riverbend subdivision north of the Sacramento River near Interstate 5, has completed 17 energy-efficient homes with photovoltaic (PV) panels integrated into the roof. It has 7 more under construction, and 8 more lots ready for construction. The project was achieved through strong partnership between the utility district and the builder.
"SMUD provides technical support," explains Jim Bayless, president of Treasure Homes. "It connects us with solar equipment providers, assists in advertising, gives us priority service in subdivision planning, and provides a rebate program to help make solar power and other energy-saving features more affordable." The energy efficiencies added about $15,000 to building costs, he says.
"Compared to other new homes in the area, our home prices generally reflect that cost differential," Bayless says. "Our homeowners save on utility bills, live in a more comfortable home and reduce their impacts on the environment. They get a federal income tax credit, and can also anticipate higher resale values because of these features."
PV solar panels installed in the roof are perhaps the largest visible improvements. But the new homes also include dual flushing toilets that can save up to 20,000 gallons of water a year, radiant heat barriers that can reduce energy consumption by up to 35 percent during peak hours, tank-less water heaters that save up to 50 percent in energy costs, and smaller pipes that hold less cold water to be pushed out of the way before hot water reaches the tap. In addition, there are General Electric Energy Star appliances, efficient lighting systems, dual-paned windows with specially coated glazing to reduce radiant heat gain and loss, and gas fireplaces that burn cleanly without producing particulates. Outside, landscaping is designed to consume less water.
The Roseville and Sacramento area programs are riding a surge of interest in renewable energy in California. Last summer, California Governor Schwarzenegger signed Senate Bill 1, creating a $3.35 billion solar program to install 3,000 megawatts (MW) of PV systems in California.
Working hard on this legislation was a San Francisco–based group, Vote Solar, which assists municipal utilities in developing and implementing solar programs. With Vote Solar help, the City of San Diego changed its permitting program to give priority to construction projects using on-site renewable energy sources (50 percent for residential homes, 30 percent for commercial). In 2001, voters in San Francisco, tired of blackouts, high prices and neighborhood power plants, approved a $100 million bond initiative that paid for solar panels, energy efficiency and wind turbines for public facilities. The first project implemented, the Moscone Convention Center, now has a 675 kilowatt (kW) system on its roof, according to Vote Solar. In Richmond, Vote Solar worked with the Solar Richmond campaign, which persuaded the city council to set a goal of installing 5 MW of PV power on municipal, commercial and residential buildings by 2010. Farther away, the 2004 Honolulu City Council approved a $7.85 million bond to install solar and energy efficiency measures in city buildings. And in 2005, New Mexico passed a $20 million bond for solar and energy efficiency technologies in state buildings.
But around Lake Tahoe, the surge is still but a swell. The utility companies serving the North and South shores do not currently have incentive programs for subdivision developers, although the Truckee Donner Public Utility District (PUD) soon will be implementing a rebate to anyone installing PV systems, and Sierra Pacific Power Company has created a Solar Generations program offering rebates of between $2 and $5 for residences, small businesses and public facilities that install PV systems on Tahoe's Nevada side. There are also incentive and rebate programs for homeowners replacing old energy-hog appliances with new reduced-energy users.
In the absence of financial carrots, members of the Tahoe building community are moving forward on their own. East West Partners is responsible for the largest number of green buildings completed to date in the Tahoe-Truckee area, according to Scott Terrell, planning director at the Truckee Donner PUD. The East West commercial buildings in Old Greenwood and Gray's Crossing developments are certified by the U.S. Green Building Council's Leadership in Energy and Environmental Design (LEED) for renewable materials and energy efficiency measures, Terrell says. Elsewhere, the Tahoe Truckee Unified School District built energy efficiencies into its Alder Creek Middle School, and numerous projects in the works will be incorporating similar renewable or recycled materials and energy-efficient features, including buildings planned by the USDA Forest Service, Sierra College, the Truckee Donner Recreation and Park District and Northstar-at-Tahoe. Anticipating a very high percentage of "green square feet" per capita, Truckee may soon achieve a hoped-for distinction of being the greenest small town in America.
"Probably every month there's a new green building being conceived in this area," Terrell says. "Green building has to happen. We don't have a lot of time to reduce the carbon dioxide emissions on this planet. Sometime soon, these so-called alternative buildings will be the only buildings that make sense for the future."
The Truckee Donner PUD will expand its own role by implementing a program in January 2008 offering a $2.80- per-watt rebate for anyone installing a PV system. Solar panels for the Sierra Nevada must meet certain requirements, including standards for snow load. Some homeowners are installing pole-mounted systems separate from their homes, Terrell says. The panels are pitched, and some are even designed to rotate while they track the sun. But they're not inexpensive, costing around $10 per watt. This translates to between $30,000 and $40,000 to buy and install a standard system, according to Chris Worcester with Solar Wind Works of Truckee, who notes that considerable tax rebates and incentives like Senate Bill 1 will help with affordability.
Also fueling interest is Truckee's Sierra Green Building Association, or SiGBA, advocating environmental design in northern California and Nevada with an active membership and abundant educational material and resources on its Website, www. sigba.org. Additionally, SiGBA produces the annual Regional Green Building and Living Resource Guide and partners with the Truckee Donner PUD to host the annual Truckee Home and Building Show and Green Building Symposium, helping homeowners to explore and make environmental choices.
Truckee organizations aren't the only progressive thinkers about construction around Lake Tahoe. "Lake Tahoe is going green with several projects," Terrell says. Tahoe Vista's Wild Goose restaurant, redesigned for East West Partners, incorporated green features; the University of Nevada, Reno recently finished a green 4-H Camp in Stateline; and the new Tahoe Center for Environmental Sciences in Incline Village is considered one of the greenest buildings in the world.
In South Lake Tahoe, the city's planning department offers no incentive programs for solar installations—planners have been focusing much of their energy on water quality issues, according to Hilary Hodges, the city's planning manager. However, the city is looking at smart growth and green building issues as part of the Pathway 2007 process and in the Tahoe Valley Community Plan for the redevelopment of the "Y" area. The city is also working with Tahoe Development in hopes that a new $500 million convention center on Highway 50 will receive U.S. Green Building Council LEED certification. The convention center, expected to seat up to 4,400 people, is part of a Stateline-area redevelopment plan in the northeast section of South Lake Tahoe that includes two condominium hotels, retail shops and a pedestrian underpass to the Heavenly gondola. In its entirety, the 570,000 square foot project covers 11.36 acres along Highway 50 and Cedar, Stateline and Friday avenues. Preparation of the land is underway, with construction expected this May.
For many advocates of energy-efficient housing, a key ingredient for success is patience, not the incentive programs. "From a financial perspective, the payback may take several years," says Bayless of Treasure Homes. "But we believe that, for most people, the payback value of solar is more clear-cut than that of a hybrid car. As energy prices rise and energy policies (such as time-of- use billing) evolve, the payback for solar will continue to improve. The industry is also continuing to drive down costs and improve system performance. However, for some homebuyers, the greatest benefit is the peace of mind in knowing that you are doing all you can to reduce your impact on the environment."
Mountain Style Battle: Neo Tahoe vs. Old Tahoe
San Francisco Chronicle
In the 1930s, a town in Westchester County, New York banned construction of a new style of architecture that had migrated to the U.S. from Europe. In Europe the principles were considered "anti-bourgeois," and considered well suited for workforce housing. In America, the fresh concepts appealed to the aesthetic elite in the middle and upper classes, especially in southern California, where in the 1920s, builders used new materials to create flat roofs, open floor plans and exposed structure, or "honest form." Exterior ornament disappeared, and plate-glass walls dissolved any perceived separation from the outdoors. Steel-supported rooflines seemed more connected to sky than to earth.
The forms rarely found footing in the mountains, where vacationers preferred traditional homes. Although a blast of flat-roofed construction appeared at Lake Tahoe before the 1960 Olympics, afterward builders found that their roofs leaked or collapsed under snow. In time, "Old Tahoe" architecture triumphed, loyal as it was to the gable dormers and sloping earthbound rooflines popular in the Alps and Scandinavia. It prevailed until now.
"For a long time people had a preconception that mountain architectures consisted of peaked roofs and ornament," says architect Clare Walton. "Recently people have wanted simpler ideas and forms that are backdrops to their lifestyles. We've seen a success in clean lines. That's especially reflected in the roofs."
International Style principles are emerging with new rigor all over North Tahoe, from Incline Village to Alpine Meadows, from Tahoe City to Tahoe Donner. They are most abundant in the new private community Martis Camp, where, of more than 100 homes under construction recently, between 40 and 50 percent have flat or low-sloping roofs, short or no overhanging eaves and long spans of steel.
There is notably "a blurring of the line between interior and exterior through the extension of materials that will run continuously from inside to out," says Martis Camp Architecture Review Coordinator Vangela Wightman. "A stone tile terrace becomes the stone floor inside; cedar soffit material will extend into an entry and beyond."
For all of its spare beauty, architect Sherry Guzzi thinks modernism means trouble. "The overhangs of traditional architecture are important, not only for the snow and rain, but also for the sun exposure and heat efficiency." A great house will work well with the environment and also respond to the needs of the occupants, she says.
Contractor Bruce Olson concurs. Most of his luxury homes have blended the "Old Tahoe" vernacular with the muscular traditions of Norway and Sweden. "A traditional Tahoe home will incorporate wood, stone and warmer colors," Olson says. "Some of the more contemporary homes are letting the outside in with glass, but there's not a lot of wood. Let's say you've been outside all day in the elements, and you come home and your home is all white and spotless clean. To me, that feels cold."
But the architects building non-traditional homes say that if built right, the new structures meet the needs for climate protection and cozy shelter.
"What some may call modern, we think of as non objective...organic, a freedom of form assembled with natural materials that contribute to the built place," says architect Greg Faulkner. "How things are made and assembled is important in the work. There's expediency, honesty and clarity in the structure."
New materials withstand the effects of a climate that heaps snow on the ground in winter and sends air temperatures soaring in summer. Triple-glazed glass limits interior heat loss and damage from ultraviolet rays. Cement-slab floors contain tubes circulating water for warmth. Structural Insulated Panels, or SIPs, form durable roofs, according to engineer Andrew Ryan.
Another shift: Non-traditional homes are trending smaller— 3,000 to 4,000 square feet instead of the recent giants besting 20,000 square feet.
"They are working retreats," Faulkner says. "The house is a tool for recharging fast-paced lives."
They are getaway homes for a new generation.
"You have a younger clientele coming up here now," says architect Joel Sherman, who's been designing non-traditional homes at Tahoe since 1993. "Whereas twenty years ago you had old Bay Area money, people who wanted nostalgia and had visions for a cabin."
Faulkner argues that, in fact, history can resonate in the new homes. While the details may not mimic historical ornament, they stir memories.
"I think we have histories that we use for reference when experiencing a place," Faulkner says. He cited as an example a Lahontan house he recently designed, a sprawling Jenga web of glass, reclaimed redwood and stones acquired onsite. The massive stacked timbers create an old-redwood grove ambiance. Glass walls fitting around existing boulders provide visual passages to outside terrain. "If the place is a built landscape inhabitation of ground form and framework with layers of detail at varied sizes, it can more fully engage the senses, it can be memorable," Faulkner says.
In contrast to the Westchester County rebuff long ago, Martis Camp encourages architectural diversity. "The 'Martis Camp Architecture Handbook' was very deliberately written to be non-prescriptive, and to encourage and support high quality mountain architecture and well-composed design, regardless of stylistic approach," Wightman said.
The architects who appreciate the principles of International Style, Bauhaus and American Mid-Century Modern, value the freedom.
"Ten years ago when I started working here, I thought I would never do any modern projects," Walton says. "I hoped that eventually a client would say 'I'd like you to come up with something fresh and new that I've never seen before.'"
With clients now eager to say such a thing, the sky's the limit. Or is it?